DISCOVERY LEARNING Model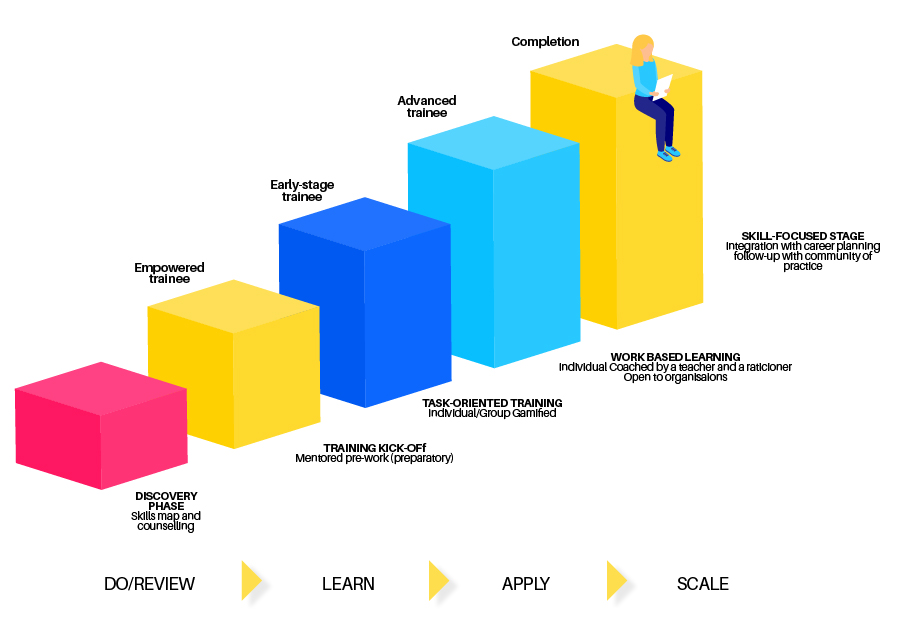 Training as a process
In an effective training, trainees should be able to
Develop reflective thinking to draw upon concepts, and
Experience, to understand and evaluate concepts and formulate new knowhow
Furthemore, in order to be effective, the training needs to take into consideration the current context:
The knowledge base in society is increasing rapidly, and now doubles every year-year and a half.
Employment prospects relate more and more to the ability to enhance and transfer learning, and the accumulation of qualifications is not enough.
The landscape of learning is much wider and richer now, involving multiple contexts, models and sources, and with learning becoming a "way of being".
In such a context, the goals of learning are shifting from focus less on knowledge acquisition by individuals, and more on knowhow generation with others.
Collaboration, gamification and blended learning for increased effectiveness
Effective learning is also promoted by Collaboration: When learners together create a joint understanding, they also develop higher order skills (interpersonal and related to management and communication), and collaborative methods give better academic results.
Gamification will also be applied in order to help gaining the attention of trainees, enhancing their confidence and motivating them to learn (gamification incorporates a "want to learn" attitude). It also shows a positive impact in effectiveness of training by allowing trainees to know exactly where they go right or wrong, and in remembering concepts for a longer time.
Finally, blended learning is rooted in the idea that learning is not just a one-time event, but a continuous process. It provides baseline benefits over using any single learning delivery medium alone.
The following table showcases the levels of experience-based learning foreseen along DISCOVERY LEARNING training process taking into account the two key methods selected.
Type
Description
Examples from Partners' previous experiences (see Section 4)
Owned / Implemented by…
For…

Preparatory

Exercises
Hypothetical generic problems

Carry out bibliographic searches
Viewing relevant TED-talks/TV shows (e.g. Shark Tank) and share conclusions before training / answer a quiz

Trainers & Content providers

Training kick-off

Task-oriented

Hypothetical real-like problems
Metaphors

Working over trainers' past real-cases
Working over real study cases
Extracting abstracted concepts from videos, exercises and theatre short plays.

Trainers & Content providers

Early-stage trainees

Work-based

Real projects / project's tasks
Interims

Reaching agreements with organisations to co-work in project building / grant preparation.
Erasmus+ promoted interims at PAN-EU institutions / start-ups.

Trainers & Collaborators

Advanced trainees

Skill-focused

Co-mentoring
Co-quizzing
Co-surveying

Co-mentoring: With skilled trainees mentoring less advanced ones.
Co-quizzing / Co-surveying: Tools such as Cerebriti could be used to ask trainees prepare quizzes/ activities for other trainees, reinforcing motivation, adult learning and creativity. Co-surveying could also generate interesting knowledge for educational research.

Trainers, PhD programme managers

Training completion